World of Van Helsing: Deathtrap has received quite a few updates since launch, but with the relocation of the DevBlog / Forums into the New Community hub, some of these are hard to find.

Let's review what has changed, starting with the major Content Update with the brand new Minion Card feature and the fixes afterwards.
Major changes and fixes
Added the Minion Cards feature
Finishing low level maps with higher level characters is awarded now with some XP (instead of nothing)
Added a new camera mode (Dynamic Camera), enabled by default, but can be switched off in the Options menu
"My Friends" filter has been added in leaderboards
"Ready" / "Not ready" button was added to the campaign map in cooperative mode for the clients
Fixed a bug that caused black screen upon opening the leaderboard through the zoom-in / fade in animation, after starting a new game.
Fixed some achievements which only unlocked on the Tier 4 maps instead of Tier 2 maps (as was stated in the achievement description)
Minor bug fixes
As a safety measure, from now the player needs to press and hold the corresponding button to delete or overwrite the character
Several text corrections in all localizations
Fixed the names of the Epic items in the Hungarian localization
Added footstep sounds for the heroes
My Rank filter works fine in the leaderboard
The trap cooldown enchants now work correctly
Added the mana cost description and changed the icon for the Disintegration Ray skill for the Sorceress
Added new artifacts
Minor performance improvements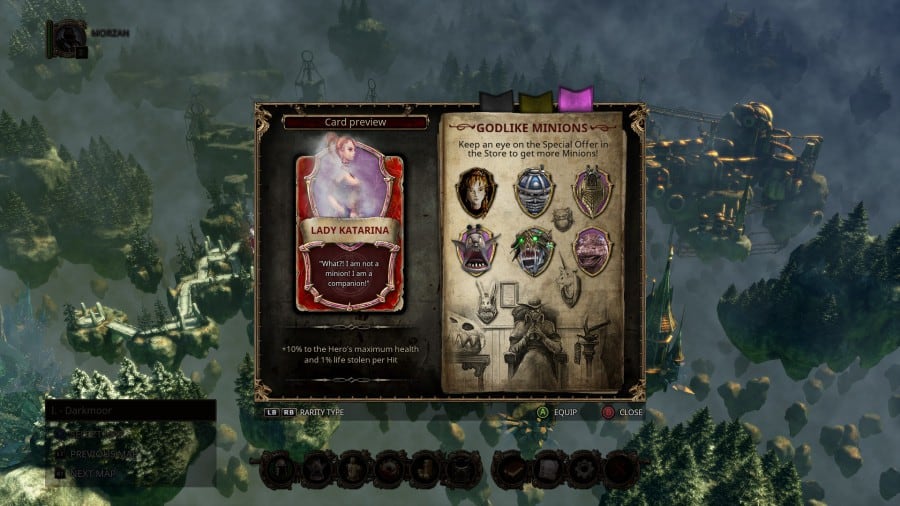 Other updates
1.0.0.8
Fixed the reward Minion Cards wich supposed to unlock simply by owning the Van Helsing games
Fixed achievements:
Hephaestus: Can be unlocked if you upgrading with Dream Shards too (if you missed you'll get retroactively)
Veteran Hunter: can be unlocked when you skipped the 20. level (if you missed you'll get retroactively)
Can't touch this: now cannot be unlocked when you get damage
Hero of the Ink: now only can be unlocked on Tier 4
Trap Boost aura's "Extended aura" upgrade now shows the correct effect size ingame
The end cutscene in coop mode caused unresponsive state - now its corrected.
Fixed or added new sounds for Ornithopter, Igor, Batrantaur, Katarina and the Beeping Automaton Minions
Ready/Not ready icon now appears for the other clients too on the campaign map
Fixed a synchronizing issue when you get a duplicated version of your character and when he dies can damage the gate (only in single player)
Fixed some other minor issues
1.0.0.9
Corrected text and properties of some of the unusable Godlike item drops.
Fixed the missing text from the Lone Wolf Belt's level 10 Godlike enchant.
Fixed some minor GUI issues.
Please let us know if there's anything we can do to improve the game even further!
This post was modified
5 years 350 days ago
by
Jim Fox