Skulls for the Skull Throne!
Games Workshop video games on Steam unite for this Skull-themed sale and event, and NeocoreGames is proud to announce that Warhammer 40,000: Inquisitor - Martyr is participating as well!
During these days players can take part on a global event in the game in which you are collecting Skulls of the Innocent. By collecting 50 of these (dropped by a certain type of enemy), you will unlock a unique cosmetic item called Mask of the Martyrs for your character. Any character class can wear it, but it won't affect any stats. Because of this, you can keep the mask permanently (the character progress reset at launch won't affect this item). The global event will also have its own leaderboard.
Official description of the event:
The despicable traitors of the Black Legion are on an unholy rampage in the Caligari Sector, and this time they are not simply wreaking havoc on Imperial Worlds. The Hounds of Abaddon are indulging in an obscene challenge to find the most competent killer among their ranks. They are collecting skulls of Imperial subjects as trophies to prove their worth. We cannot let loyal servants of the Emperor suffer such a horrible fate. Hunt down as many of these Black Legion monstrosities as you can, seize and redeem their dark trophies - the Skulls of the Innocent.
And behold, the item in question, the Mask of the Martyrs looks like this: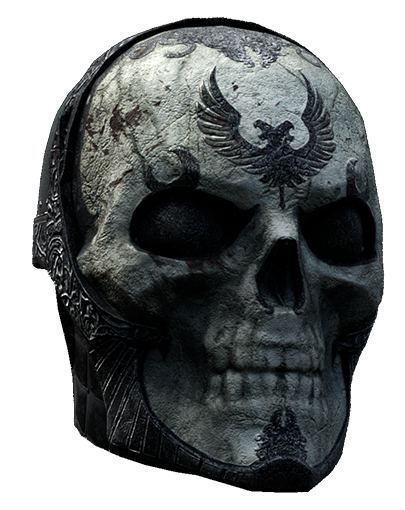 The event launches with a new patch and if you buy Warhammer 40,000: Inquisitor - Martyr during the event, you'll get 10% off the full price! The promotion will end on the 4th of June.
The full game will be released on June 5th, 2018 on Steam, until then, collect the Skulls to claim your Mask of the Martyrs, or follow the official Skulls for the Skull Throne event Stream on Twitch!
This post was modified
5 years 119 days ago
by
Morzan