Inquisitors!
Today the game expands its horizons: Warhammer 40,000: Inquisitor - Martyr enters Steam Early Access. Suitably with this transition, there's a new update as well. Check out the full change log.
Now, for those who are not familiar with the "Early Access" concept, it's basically a chance to get the game earlier to help in the development by providing feedback. Some features are still missing, although we have laid out our plans up until the full release of the game what new stuff to expect each month.
Click to see the new Roadmap in full size: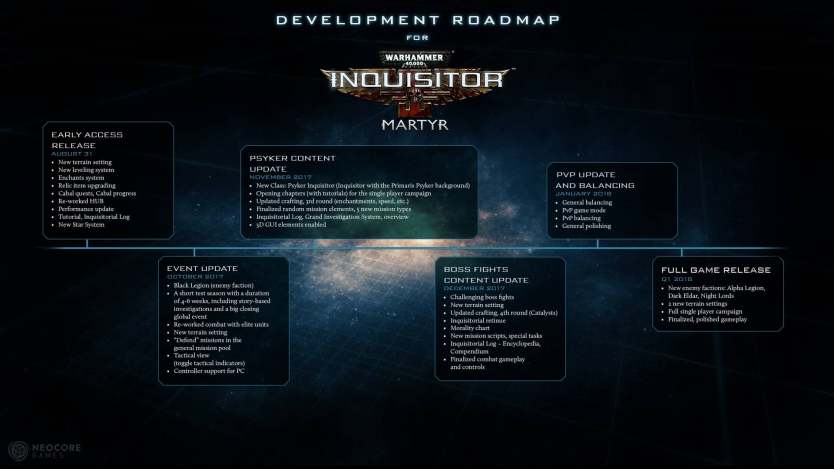 That said, you're not really missing out if you decide to wait for the full release - you will not get an advantage with character progression, nor will you be able to play through the entire story campaign (although you will get a taste eventually). Early Access is for those who are willing to play a game in its less-than-complete form - any constructive or critical opinion is appreciated, especially during this phase.
That said, you're welcome to ask anything and provide feedback so we can complete the game with as much polish as possible.
This is the home of our Community, so feel free to explore and engage in conversations. Other than that, explore and enjoy what the game has to offer, and if there's anything you need, we'll be here to help!
For the Emperor!
This post was modified
6 years 91 days ago
by
Jim Fox