Inquisitors!
Our newest update on PC includes an in-game store for Warhammer 40,000: Inquisitor - Martyr, among other fixes. You will be able to spend your Fate points here, allowing to purchase certain DLCs.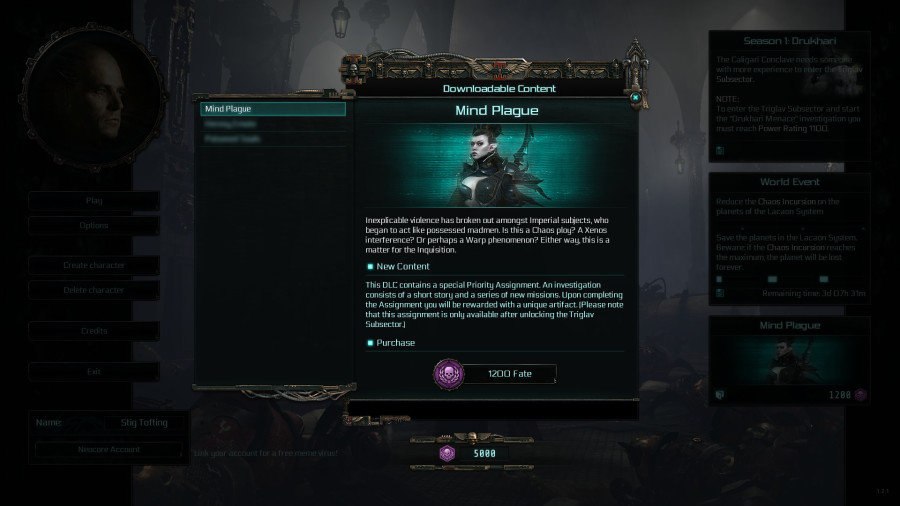 Some basic things you should know about this store:
You can access it from the Main Menu, the right-side panel
Anything you purchase is account-wide and not only specific to the character you're currently using
Alternatively, you can also buy the store's contents from the Steam Store
As of now, this is just the implementation of the feature, so you can't buy a lot of things, but in time, the stock will grow with several types of DLCs, such as Priority Assignments, Emotes, and more.
Again, this does not require you to spend any real money, as Fate can be farmed by pretty much just by playing the game, completing missions, especially Ordos Directives, selling high-tier items, gaining System Influence. Also, being on Weekly Glory charts is a good way to earn them.

Mind Plague DLC
Our first DLC is a Priority Assignment called Mind Plague. Available after unlocking the Triglav Subsector, this Assignment consist of a short story and a series of new missions. Upon completing the Assignment you will be rewarded with a unique cosmetic item.
Inexplicable violence has broken out amongst Imperial subjects, who began to act like possessed madmen.Is this a Chaos ploy? A Xenos interference? Or perhaps a Warp phenomenon? Either way, this is a matter for the Inquisition.

We also took this opportunity to include a few more fixes, read here for the full patch log! The 1.2.1 update on Steam is available after a brief maintenance, which starts at 4pm CEST.
We hope you like the new update, let us know in the comments!
This post was edited
4 years 126 days ago
by
Tender