Updates to W40K: Inquisitor will be released. The updates will be applied automatically after the scheduled maintenance and when your Steam client (in on-line mode) is restarted.
New features
New event: Hidden Foes
Enemies of the Imperium have established many hideouts across the subsector in an attempt to avoid righteous prosecution. A special purpose intelligence unit has gathered significant data on these cowardly scum.They shall not avoid their just punishment much longer. The relevant information shall now be disseminated through secure channels to all Throne Agents. The Conclave expects every opportunity to eradicate the hiding vermin be taken.
Hidden rooms on interior maps will appear far more often than usual. Find as many as you can and eliminate enemies found in them. Event rewards at the end are based on the number of hidden rooms cleared.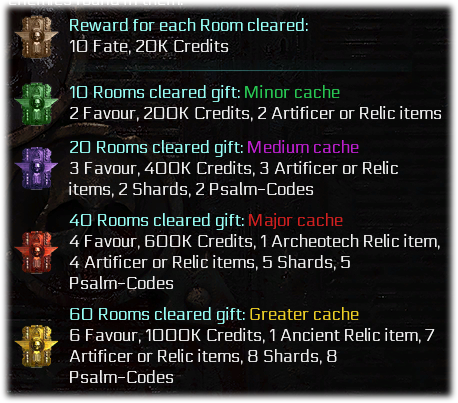 Ecru Void Crusade
Gather 5 Ecru Shards to open the brand new Ecru Crusade and complete its challenging missions to receive epic rewards! Fight and defeat the Alpha Legion, Tyranids, and the Aeldari to collect your righteous bounty.
25 new missions available
Enemy factions in the Ecru Void Crusade: Alpha Legion, Aeldari, Tyranid, Nurgle
Cortex Fragments
From now on Cortex Fragments can be looted from Villains, Elites, and Commanders. After collecting 100 of them you can exchange them for Favour at Custodian Rebus. The maximum amount of fragments you can gather is 200 per week. Favour then can be exchanged for valuable items at Custodian Rebus's store.


Added a new Aura and Footprint effect to Custodian Rebus's store.
Custodian Rebus is only available from Friday through Sunday at the Ormeus System.
Fixed Bugs
Several crash fixes and stability improvements
Fixed the Ordo stores' reset time. They will reset on a daily basis from now on
Fixed the 'Consume resource' enchant unlock requirement which could prevent players from getting into a coop mission and from now on it will count the Warp Heat reduce in case the item will be equipped by a Psyker
Fixed the Only War achievement which could be unlocked even below Level 50
Fixed an issue in an Ebony Void Crusade mission where if the Survivor died on the way to the terminal, the panel could not be interacted with
Corrected the displayed number of Intels in Void Crusade
Reduced the size of the Kill Streak, Massacre etc. buffs
An enchant providing damage bonus for the Suppression Shield's Block skill can no longer roll onto such items
Reduced the speed of the Wandering Servoskull in Void Crusade
Balance
Drastically increased the damage of Shock Traps
Tweaked monster settings for Void Crusade map to better suit indoors type missions
All DoT base duration values reduced from 5 seconds to 3 seconds
All DoT base damage values increased roughly by 200%
Demolition armor's "Cyclone missile launcher" cooldown decreased from 60 seconds to 5 seconds
The Unbreakable Effect now restores 3% HP/sec from 10 HP/sec as well as instead of 10 Suppression/sec it restores 3% Suppression/sec now
The Remote mine now places 3 mines simultaneously that can be detonated one by one, its damage increased from 5.0/piece to 8.0 and received a Critical Strike tag as well
The Stun mine now places 10 mines, it properly deals massive Suppression damage and its cooldown was increased to 15 seconds
Ranged weapons
Heavy Bolter
The Spin up salvo skill was renamed to Full Auto and the spin up was removed. The skill now fires every 0.125 sec instead of 0.3 sec, received a Traumatize tag, its damage and spread was slightly reduced and its cooldown values adjusted to 0.5 sec to provide a comparable DPS
The Concentrated salvo skill's fire rate was increased from 0.3 sec/shot to 0.225 sec/shot, its spread reduced from 12° to 5° and its cooldown values were adjusted to 0.5 sec
The Disengage skill's spread was increased from 12° to 16°, its fire rate was increased from 0.3 sec/shot to 0.15 sec/shot. The skill's damage was increased 0.75 to 0.8 and its cooldown is 14 seconds now
The Hellstorm skill's spread area got reduced to a 2.5 meter radius from 3.0 meters, its cooldown values adjusted to 0.5 sec to provide a comparable DPS as well as its spread angle got reduced from 8° to 5°. The skill's damage was increased from 0.86 to 1.4, received a spin up and Knockdown, Knockback and Weak vs Armored tags. Its explosion radius reduced from 2 meters to 1.5 meters and its cooldown is 10 seconds now
Multi-Melta
The charge-up time of the Melta Blast and the Overcharged Shot skills were halved (from 3 seconds to 1.5 seconds)
Shotgun
The Single Shot's Weak vs Armored tag was removed and its damage multiplier was increased from 1.0 to 1.3
The Flechette Rounds' maximum damage was reduced to 200% from 300%, its cooldown was decreased from 5 sec to 2.5 sec and its charge-up also reduced from 3 seconds to 2 seconds
The Short Burst received an Assault tag while its Giant Killer tag was removed. Its cooldown was reduced to 3 sec from 10 sec and its damage multiplier was slightly increased. While firing the player moves forward
The Manstopper Round received a Physical Vulnerability tag and its cooldown was reduced from 3 seconds to 1.75 seconds
Lasgun
The Single Shot received a Heat Vulnerability tag, its damage multiplier changed from 0.92 to 0.82 and it now pierces through multiple enemies
The Short Burst received a Fleshbane tag, its cooldown was reduced to 1 second from 2 seconds, its damage multiplier changed from 0.84 to 1.0 and it fires 4 shots instead of 3 now
The Aimed Shot skill's damage multiplier changed from 2.2 to 2.9
The Hotshot's damage multiplier was increased from 1.0 to 1.5, its range increased from 28 meters to 40 meters and the player keeps moving backward while firing
Plasma Gun
The Single Shot's damage multiplier increased from 0.85 to 1.0 and received a Fleshbane tag
The Short Burst skill's overheat value reduced to 0.5/projectile from 2/projectile and the time between the projectiles got reduced from 0.4 sec to 0.2 sec
The Focused Bolt received a Piercing tag and its damage multiplier reduced from 3 to 2
The Compressed Plasma's charge-up time reduced from 3 seconds to 2 seconds and its damage multiplier changed from 3.0 to 2.66
Grav-gun
The Single Shot's damage multiplier was increased from 0.63 to 1.08, its animation speed increased from 0.5 to 0.3 second
The Temporal Anomaly received a Piercing tag, its cooldown was increased from 3 to 4 seconds and its damage multiplier increased from 2.0 to 2.2
The Gravity Surge received a High Suppression tag but the Stun and Slow tags were removed, its cooldown was adjusted to 0.5 sec and its damage multiplier was reduced from 1.0 to 0.66. The area of the secondary effect was reduced from 5 meters to 3 meters
The Gravity Implosion's initial damage multiplier was reduced from 1.0 to 0.5, its overheat reduced from 5/shot to 4/shot and its overtime damage multiplier was increased from 0.2 to 0.475
Plasma Cannon
The Single Shot skill received a Heat Vulnerability, an Armor Breaking and a Breacher tag while its Demolisher tag was removed. Its animation speed was slightly increased and its damage multiplier was reduced from 1.65 to 1.4
The Overdrive Discharge's base attack speed was increased from 0.5 sec/shot to 0.25 sec/shot, its damage multiplier increased from 0.85 to 1.2 and removed the spin up as well as the Armor Breaking tag
The Compressed Plasma's chargeup time was reduced from 3 sec to 1.5 sec but its damage increase was kept
The Plasma Barrage's number of projectiles was increased from 4 to 6 when fired
Grenade Launcher
The weapon's reload time was increased from 1.5 sec to 2.5 sec
The Single Shot skill's damage multiplier was increased from 1.0 to 1.35 and its cooldown was reduced from 0.9 sec to 0.65 sec
The Short Burst skill now fires every 0.2 seconds instead of 0.5 seconds and its spread was reduced from 4.5 meter radius to 4.0 meters
Proximity Mine now launches 5 mines instead of 1. The mines have a 1.5 sec arming time and do not explode on direct contact. The mines' damage multiplier was reduced from 1.6 to 0.75 and its activation radius changed from 1.5 meters to 2.5 meters
Heavy Flamer
The Flame Cone received an Assault tag as well as a Flee tag (Flee causes enemies with red or no suppression to turn their back and run. It affects all enemy types) while its High Suppression tag was removed. It now causes Burning and while using it the player slowly moves forward
The Phosphorous Splash's damage multiplier was increased from 1.2 to 1.5, received a High Suppression tag and the projectiles' speed was doubled
The Scorched Earth received a High Suppression tag
Boltgun
The Single Shot's damage multiplier was increased 0.95 to 1.4, its animation speed was also increased and adjusted the global cooldown value to 0.5 second
The Full Auto now fires every 0.2 second instead of 0.3 second and its damage multiplier was increased from 0.7 to 0.825
The Aimed Shot's cooldown was decreased to 0.5 second, it received a Knockdown tag and adjusted the global cooldown to 0.5 second
The Frag Burst's fire rate was greatly increased and its damage multiplier was increased from 0.85 to 1.36
Melta Gun
The Inferno Beam's rotation speed was decreased from 40°/sec to 5°/sec
Autogun
The Full Auto now fires every 0.08 second instead of 1 second and adjusted the global cooldown to 0.5 second
The Shoot and Retreat now fires every 0.06 second instead of 0.15 second, its spread increased from 10° to 15 ° and adjusted the global cooldown to 0.5 second. From now on both weapons use ammunition at the same rate and fires simultaneously
Autopistol
While using the Crippling Salvo, both weapons use ammunition at the same rate and fires simultaneously
The Shoot and Retreat skill's cooldown was increased from 0.5 second to 5 seconds
Grav Pistol
The Gravity Flare's overheat was changed from 2/shot to 6/shot and its cooldown was reduced from 7 seconds to 6 seconds
The Gravity Well's damage multiplier was increased from 0.3 to 0.45 and from now on the overheat value will be shared between the weapons
The Single Shot's overheat cost was reduced from 2/shot to 1/shot
Laspistol
The Pulse Shot's overheat cost was reduced from 2/shot to 1.2/shot
The Single Shot's overheat cost was reduced from 1.0/shot to 0.5/shot
Plasma Pistol
The Focused Bolt's overheat cost was reduced from 3.0/shot to 1.2/shot
Inferno Pistol
The Melting Ray's overheat cost was halved
This post was edited
2 years 266 days ago
by
Marcopolocs