While players were battling the elements within the Season of the Inferno, we were working hard on the upcoming Season for Inquisitor.
As a token of our gratitude, if you log in to the game this week, you'll receive a small reward package, so be sure to claim your rewards until the end of the week!
Therefore, without further ado, it is time to unveil Inquisitor's second Season:
Season of the Warp Surge
Our main design goals for Season 2 were to implement the feedback we received during Inferno from the players into the new Season, while creating mechanics that encourage players to constantly adapt and react to the changing events on the field of battle.
Therefore we came up with the idea of Warp Anomalies that appear during missions, each providing a different bonus that you can benefit from. But beware! The warp is treacherous and the price of toying with such power may be high.
These anomalies will pop up as you progress through the missions. Most of them have combined effects on the player, meaning that you can gain an advantage if you interact with them, but they will also have negative effects on the side, such as damage, or other, more mysterious effects.
Here are the anomalies you will be able to meet during your travels:
Sorry, your browser doesn't support embedded videos.

Zone of Malevolence

Standing in this vortex will give you a +100% damage bonus - but beware, it slowly eats away your health.

Sorry, your browser doesn't support embedded videos.

Warp Nova

Interacting with this anomaly will stun nearby enemies around the player. Use it to defeat your foes quickly!

Sorry, your browser doesn't support embedded videos.

Corpus Warp Fleck

This anomaly charges your health and your armor skill resources to full. (Psyker Warp Heat resets to zero.) However, you will receive 15% more melee damage for a while.

Sorry, your browser doesn't support embedded videos.

Elemental Warp Fleck

A similar anomaly, this one will fill your utility and suppression bars up along with recharging your Inoculator. The trade-off is a whopping 15% increased ranged damage taken.
Sorry, your browser doesn't support embedded videos.

Veil of Carnage

An unique Warp creation, this anomaly will follow you after interacting with it. It will grant 400% damage bonus and 50% movement speed, turning you into a blood-crazed, furious entity of the Warp. However, it will take away some of your Inoculator Charges and your slain enemies will have a slight chance to come back from the dead as Demons!

Sorry, your browser doesn't support embedded videos.

Warp Pillar

A volatile power surge, the Warp Pillar will randomly follow enemies or players alike, dealing periodic damage to everyone in its wake.

Sorry, your browser doesn't support embedded videos.

Zone of Manifestation

When you slay your foes in the Zone of Manifestation, beware: they can, and they will respawn as Demons from the Warp - or Warp Flecks might emerge from their slain corpses!

Further Season Mechanics and itemization
Besides the Warp Anomalies, our goal was to create an array of Seasonal Items that draw power and utility from Warp Anomalies while staying useful outside of Warp environments. With this vision, we created 15 new Seasonal Items with unique enchants, and along with them, 6 new Relic Enchants independent from items, meaning they can be rolled on any freshly obtained Seasonal items.
Of course, a New Season required a new Shard as well, so we added a new Warp Shard into the game, which grants the players Supreme Warp Resist, Warp Damage, or Warp Reflect, depending on where they use them.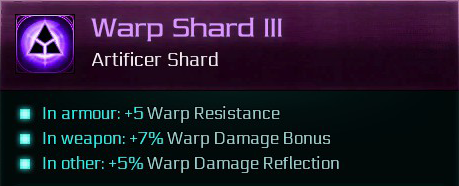 The Seasonal Journey was altered a bit as well, based on player feedback as we tweaked around the more tedious tasks and added some new, Warp themed ones to fit the bill of the new Season.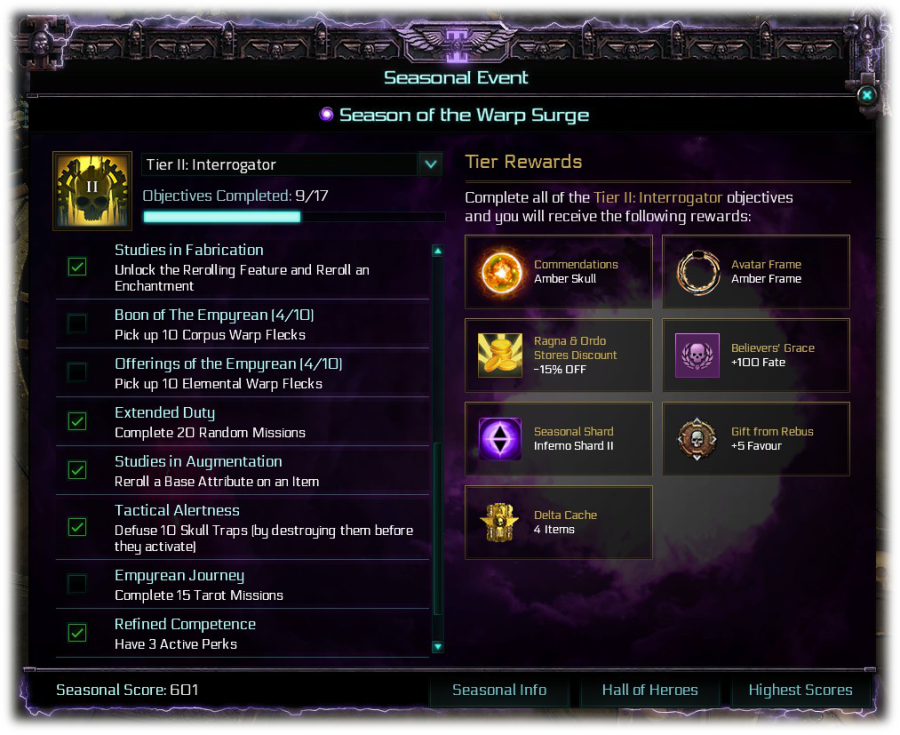 Unlock unique rewards
Unlock 4 unique portrait frames, and bolster your Trophy Desk with swirling Empyrean Rifts as rewards for your Seasonal Journey. These will be visible to other players as well so they will know you have done a great service for the Emperor.
Warp-Tainted Missions
A completely fresh addition to the new Season will be an unique mission type, named Warp-tainted missions. These missions will rarely appear in each solar system, with an unique icon, and unique hazards to go with it. These missions will have unique terrain elements and effects to them, and of course the rewards for completing such missions will not be scarce.
During the Season, Intels will have a 20% chance to spawn a Warp-tainted mission, to allow players to find new challenges. Within these missions, unique Warp Gate anomalies can occur where the player will encounter new enemies from the Void.
Loot chests will appear randomly during these missions, and players will have to scramble to find them before they disappear into the Warp - only to reappear again somewhere else on that map!
Just like in the previous season, Shrines across all missions will have a chance to transform into Warp Shrines, granting players a huge damage and movement speed bonus.
Of course, when the Season of the Warpsurge launches, it will do so with a gameplay trailer. Stay tuned!
It is time, Inquisitors, to prepare for the upcoming Warp Surge… the Inferno has now been reduced to cinders and ashes thanks to your effort, but soon enough you will face a new, darker challenge arising from the void - the Warp Surge is upon us!
This post was modified
1 year 358 days ago
by
Marcopolocs