Inquisitors!
The time for the Emperor's wrath has come once again with a new way to play Warhammer 40,000: Inquisitor - Martyr - the Sororitas Class DLC is out now on Steam (with an early 10% discount)!
This DLC introduces a fifth playable class an Inquisitor with an Adepta Sororitas background - also known as the Sisters of Battle - bringing much needed support and a new approach to combat to the Inquisition.
The new DLC adds the following to the game:
A new playable class: An Inquisitor with an Adepta Sororitas background - including three new subclasses
New game mechanics: Embodied Saint form, Acts of Faith empowerments
New items and item types: Flamers, Blessed Blades, Power Mauls, Power Halberds and more
New passive skills
New perks
New enchants
New achievements
See our blog posts about the Subclasses and the new abilities for more information, or check the detailed Compendium!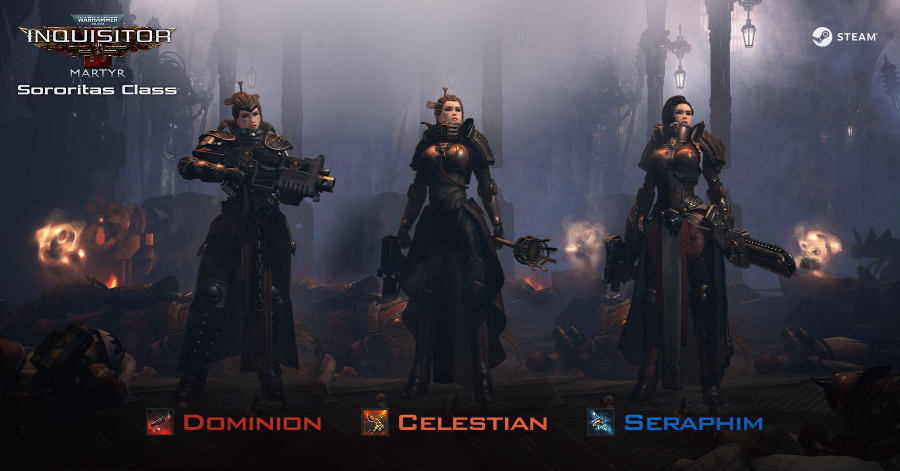 The Sororitas Class DLC is also coming out soon on PlayStation®4, PlayStation®5, Xbox One and Xbox Series S/X. New Seasonal content is also in the works and will be out in the near future for PC as well as for consoles.
If you don't own Inquisitor - Martyr yet, now would be a great time to get it - as of now, the game is on sale - the base game and all of its previous DLCs are 80% off!
And as always, please make sure to give us some feedback on the new DLC, your notes might be useful for future updates. Otherwise, we hope you enjoy this new class. And remember, when facing the hordes of Chaos - have Faith!
The Emperor Protects!
This post was edited
1 year 12 days ago
by
Tender