In this blog series let us introduce some of our team members who are working on Warhammer 40,000: Inquisitor – Martyr. Today we're interviewing Jim.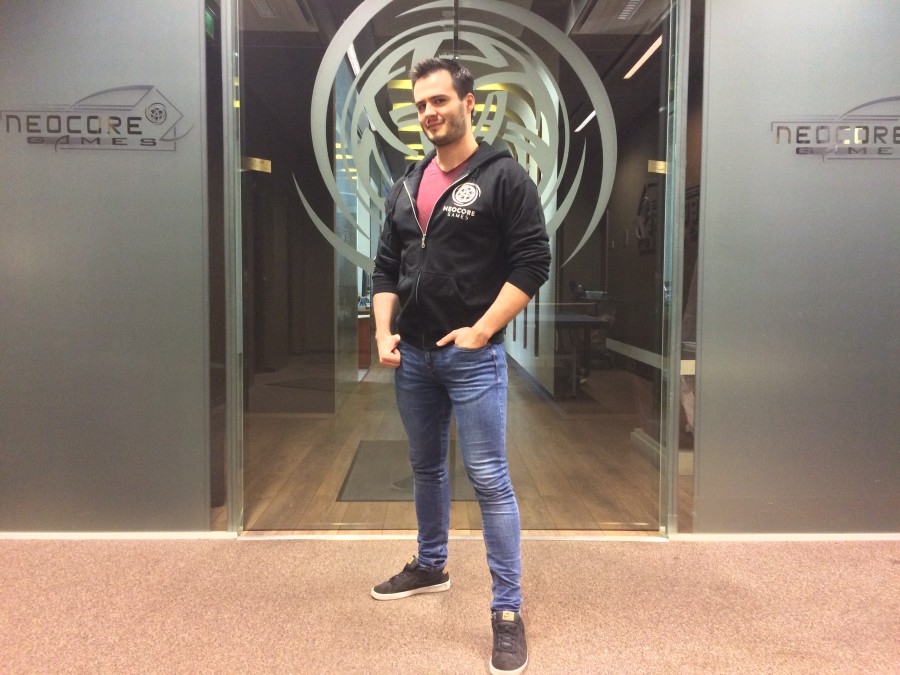 Where do you come from? What did you do before NeocoreGames?
I started out as a game reviewer at Hungarian online magazines during my years at college, I also did some game-related podcasts (Gamepod). Later I became editor, lead editor, editor-in-chief, and owner of a magazine (Gamers). Finally I was creative director at one of the best known international magazines' Hungarian division, IGN Hungary. I also managed Hungary's leading video game webshops' contents, and did some digital and print design as well. I'm at NeocoreGames for three years now, doing various tasks.
What's your job at NeocoreGames?
Originally I was hired as a senior tester, but after a short period of time I became creative producer of web development. I've been doing it since two and a half years to this day, the result is modernizing neocoregames.com, working on backend and frontend on a systemic and graphical level. This work includes the new logo for NeocoreGames as well, and I do a lot more creative stuff, such as designing the art book titled "The Art of Warhammer 40,000: Inquisitor - Martyr". More recently I've been assigned to managing the production pipeline for the DLCs of Martyr.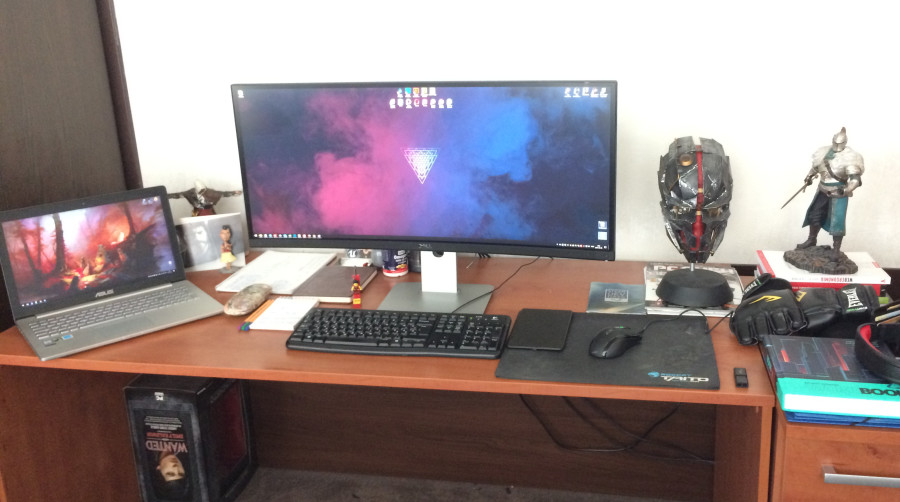 This is where the magic happens, Jim's work station at the office.
What games have you worked on?
When I was a tester, I worked on The Incredible Adventures of Van Helsing: Final Cut the most, but I was actively participating in QA / Testing of the console versions for Van Helsing 1 and 2. Later I was assigned to creative duties for Martyr's web presence, so that became my priority. The first step was the landing page, and everything related to the game. Later this work extended to all of our other games as well, designing pages and cards for them as you see them now on the website. I also helped with the UI / UX design for the game, creating the Credits sequence, and recently because of the DLCs, I became more involved in the production of parts of the game as well, more actively and more directly.
Do you have any stories from during the development?
The Christmas music for Van Helsing II, the one that plays in the menu, and the way Katarina adjusts her corset when idle, and of course when we first saw the 3 minute CGI video of Martyr for the first time in the conference room. These were the most memorable moments, I'll never forget them!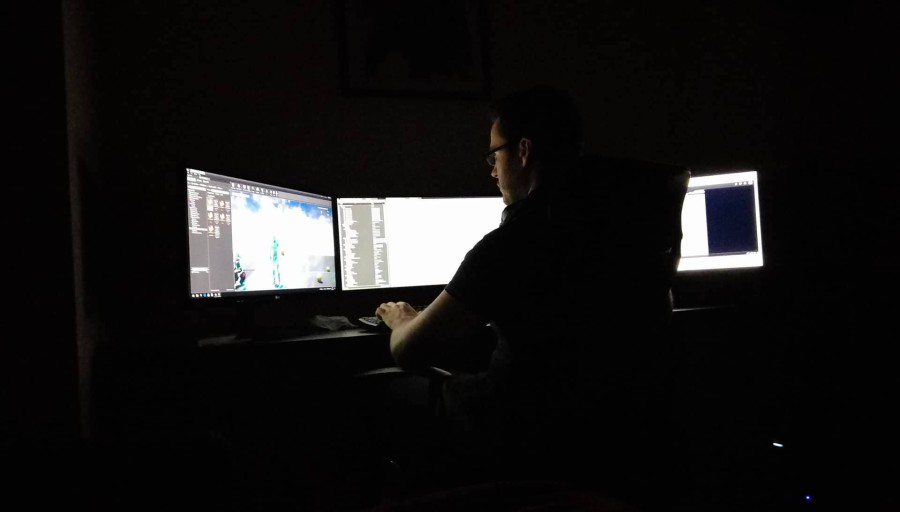 Jim working on his project at home.
What do you do when you're not working?
Mostly I work out, and I'm doing my own project as a hobby (and as a sort of mission), a fast paced sci-fi action-adventure developed in UE4. I'm also working on smaller graphical projects, I help around with image and logos.
Your favorite things you'd like to mention?
There are lots of things that influenced me in my life, I could still list some great games that had an impact on my personality. Starting with classic RPGs (Final Fantasy, Vagrant Story, The Elder Scrolls), through fighting games (Tekken, Soul Calibur) to modern RPGs (Soulslikes, Mass Effect, Dragon Age, The Witcher) and hack'n'slash games (Ninja Gaiden, Devil May Cry, NieR). My favorite books are novels written for the Hungarian tabletop RPG M.A.G.U.S., these were very influential during my teenage years. With films, I also tend to favor fantasy and science-fiction. As for food, I really like Japanese and Thai food.
Can you show us something that you've worked on?
Look around this website :)
This post was edited
4 years 155 days ago
by
Tender