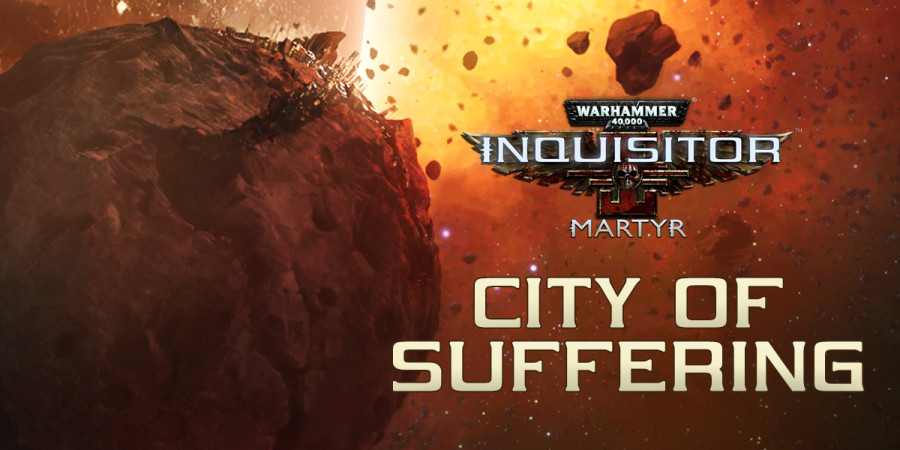 Updates to W40K: Inquisitor - Martyr have been released. The updates will be applied automatically when your Steam client (in on-line mode) is restarted. Please also note that during maintenance, players will be unable to login.
New DLC: City of Suffering
Enter the City of Suffering where the Drukhari hunt their human prey on a larger scale. Hinder the Xenos plans, take down as many Pain Catalysts as you can and make them pay for every Imperial citizen they steal.

This DLC contains a unique leaderboard game mode with a new starmap location. (Please note that this starmap location is only available after unlocking the Triglav Subsector.)
[Link to the DLC's Steam Store Page]
[Link to the Neocore Store]
Note: This DLC is also available for purchase in-game for Fate.
Fixed Bugs
Major Localization updates across all languages
Defense mission optimizations (pathing & AI)
Fixed a bug where Large Fonts caused settings to reset at every game launch
Surprise State is now properly displayed and applied on players using the Personal Teleporter
Fixed an issue where players could not interact with Ragna van Wynter
Fixed a rare Character loading error
Fixed the missing influence reward (10 crafting materials) of the Rotwang System
Fixed an issue where items got destroyed after opening the mailbox with a full inventory
Fixed an issue where it was possible to get stuck at the Terra Incognita mission's start
Fixed the swapped Investigation choices in the Mind Plague DLC
Fixed the tracking of the Master of War Heroic Deed
The Relic Hunter Heroic Deed now has a new requirement - Open 50 Reliquaries during Missions
AoE spells cast by the player no longer do damage to the player's cover
Improved the Defense section and AI pathing of Through the Fire and the Flames 4
Fixed a wrong cogitator position in the 4th AlphaLegion mission
Fixed a cutscene issue in Chapter 3, Mission 10
Fixed a camera stuck issue at the end of Chapter 5, Mission 4
Audio
New Audio Presets available within the Audio Options
Added a Video volume slider to the Audio Options
Fine tuned 5.1 and 7.1 mixing (LFE channel is no longer overdriven)
Dialogs are more clear now
Sidechain fine tuning (mostly affecting Assassin sounds)
Fixed an issue where the sound effects and background music were silent during missions
Controller
Corpses and other props are no longer highlighted on the ground and will no longer interfere with targeting
The Warzone UI's selector is now accelerating at the proper pace
This post was edited
3 years 259 days ago
by
Megapull