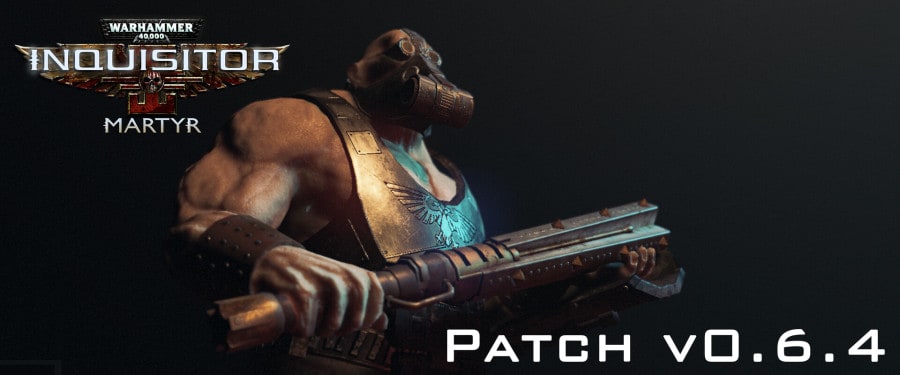 Updates to W40K: Inquisitor - Martyr have been released. The updates will be applied automatically when your Steam client (in on-line mode) is restarted. It is also recommended to delete any launch parameters you previously had (you can re-add them if they help again, but it is safer to assume everything works best without them). Please also note that the backend server might take up to 30 minutes to transfer to the newest update, during which time login will not be possible.
New Enemy Faction: The Black Legion
The Black Legion is a Traitor Legion of the Chaos Space Marines. During the Heresy, they used to be the Sons of Horus and once served as the Warmaster's pretorians. Their name is a curse, their acts are considered as the vilest treacheries of the Horus Heresy. They worshipped various Chaos Gods and ended up serving Abaddon the Despoiler. They have numerous warbands and have a preference for close assault, the use of extreme force and applying escalating pressure on their targets.
New Features and Changes
Controller support has been added. Make sure to disable everything in Steam->Settings->Controller->General Settings in order for it to work.
Investigation mission window and stucture got redesigned for easier use
Several changes and features were added to the chat window
Added support for a bunch of ultra-wide resolutions
New Inoculator Setup panel
Friend List is now renamed to Social, and players can now manage parties there as well.
Crafting
Crafting upgrades are now instantaneous
Crafting Rare items is now instantaneous
Unlocked new available Techtree upgrades

The item level of a Crafted item is now determined when the Crafting process is over.
Fixed Issues
Fixed an issue where Fusion resulted in item downgrades
Fixed an issue where crafting an item on a high-level character and finishing it on a low-level toon afflicted the final item's level
Fixed an issue where players did not receive certain rewards after msisions
Tarot difficulty is now displayed properly
Fixed an issue where Assassins could reach 100% dodge
Fixed an issue where alt characters received drops scaled to the highest
level character on the account
Fixed the following Heroic Deeds: Purifying Flames, Blitzkrieg, Backstabber
Increased the time the game waits for a client connection to help with Network Error issues
Numerous stability and performance-related fixes
More updates will follow - stay tuned :)
PS. Happy Friday the 13th :D
This post was edited
5 years 144 days ago
by
Megapull