Hi
I've recently completed the Martyr campaign, and have started on the side quests before I move on to the DLC campaign. I've been playing through the Chaos Undivided quest line, but now I'm stuck on the quest 'Harbingers of Hate'. Every time I click 'Travel to next location', the animation begins, and as it focuses in on the planet/ships (where you select the mission), it then freezes, resulting in me having to close the game down using Task Manager.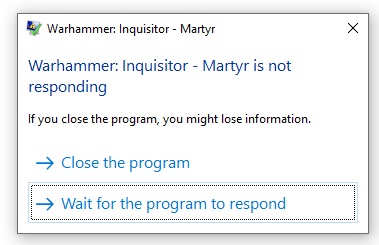 I've also recorded a video showing what happens:
It would be greatly appreciated if I could get some help with this. I have submitted a bug report through the AMD bug reporting tool, but I'm doubtful anything will come of it.
Specs:
Windows 10 Home
Intel i7 950 @ 3.07Ghz
24GB RAM
AMD Radeon R9 200 Series 2GB
Thanks.